This weeks' Designer Spotlight Interview is the fabulous designer...
Kimberly Dunn
Her ebay id is lli_boutique



What is your main area of design


- Children's clothing - primarily girls



What other items do you design and create -


I also make I Spy Bags and other educational handmade items.



Do you have any kids and how many?


I have 2 children. My son, Gabe is 11 and my daughter, Emmalee Grace is 8.



What is your typical day like?


LOL! Typical days...do they exist...especially during the Summer! My goal for the day is to try and complete my to do list which may include computer work, sewing, or just relaxing by the pool with my kiddos!



Is this a hobby, business or both?


My hubby thinks it is a business ;) but I like to consider it my business and hobby. I enjoy every aspect of being able to work from home but still being able to use my creativity and design.



Can you share with us what has inspired your favorite or most creative design.


Fabric inspires me most of the time and that is certainly true about the set I just listed. I fell in love with the fabric because it has a very angelic and vintage look. I knew I had to add gingham and a pop of red to complete the look of the dress. Adding pockets to the dress and pantaloons compliments the vintage look and I am so glad that I added them at the end! Of course this set would not be complete with out the collaboration with the ladies in my group and the wonderful job my model and her mommy did with the pictures.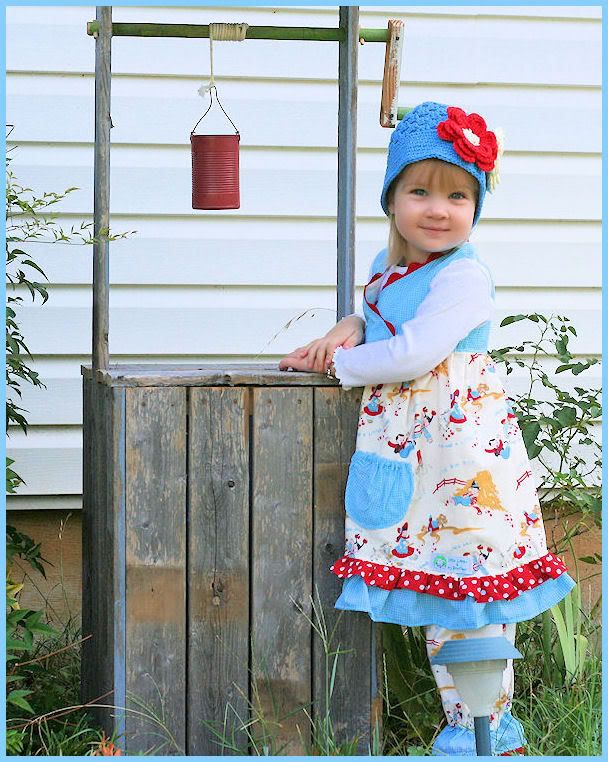 Tell us about your designing space! We really want to know Do you have a room all of your very own, a small desk in your living room etc or perhaps even an office you design in? Tell us about it!


Wow, I really got lucky on this one girls! We found this house about a year ago. It has a master suite downstairs and upstairs. The previous owners added on the suite downstairs to care a sick family member. Guess what...that is my studio! I not only have an entire room but also a bathroom! I have several closet organizers and shelves that house my fabric. I sew from a 6 foot table located in the middle of the room. I have a separate table that I use for my computer. And of course, my trusty ironing board is set up too!



Would you say your a shop-a-holic? Addicted to fabric, ribbon, beads or?


I am totally addicted to fabric! I know you ladies that love fabric can relate to what I do. I love going shopping for fabric...finding the "one" (such a rush!) and admiring it as I check out. So, I get home with it, take it out of the bag, admire it some more, fold it neatly and place it on my shelf, admire it again and... that is the end...I have to tell myself that it is ok to cut into it but it just looks so pretty sitting there! lol



Can you share your favorite place to shop? Or is it a secret?


I don't have any specific place that I shop but I do find more unique items online!


When shopping for supplies how often do you hide it from your spouse?


I don't hide things from my spouse. And usually, I am so excited that I share the minute I get home...I am sure that he does not get as excited as I do about my finds but he does love hearing about all my great deals!



Storage! Are you highly organized with nice neat totes, boxes, bins...all neatly labeled with everything in it's place or do you stuff and stash in any (or all) available nooks and crannies in your home?


I am somewhat in between a neat freak and pack rat!LOL I do love for everything to have its place and my supplies remain in my studio but not everything is labeled.


Are you in any design or specialty groups?


I am a member of N S t y l e Boutique. It is a wonderful group of ladies that are so talented! We each have our own nitch which makes a great group!



How do you come up with your designs?


I grab inspiration from many places! I could be looking at a magazine while at the doctor's office or driving down the interstate and see a bill board!
You can see Kimberly's Me Page here

Visit Kimberly's Store on Ebay