Meet Kim and her 4 super cute models! Kim's ebay id is Wifeandmotherofpilots.
I have four girls who model my oldest Amber only rarely models, mostly because she is a size 14 girls or adult 0, XS. She does have something coming up soon but she is currently on vacation and the designer is waiting to send the items til she comes home. EEEk, she is starting high school this year. Her favorite colors are pink and yellow, and she prefers to have her room painted that way but when we moved into base housing last year we didn't paint before moving her furniture in, but I have been debating it recently.
Kelsey is a size 7/8. She is currently doing a lot of changing(you know those awesome preteen years, she is 9 ½) and prefers to have an older look to her outfits but still loves boutique clothing. Kelsey is a true blue girl, she is all about every thing blue and she loves cherries (she recently grew out of that allergy) so she is begging me to make her an outfit out of the new confections line. If anyone has one I am sure her love of the fabric would really show in her photos.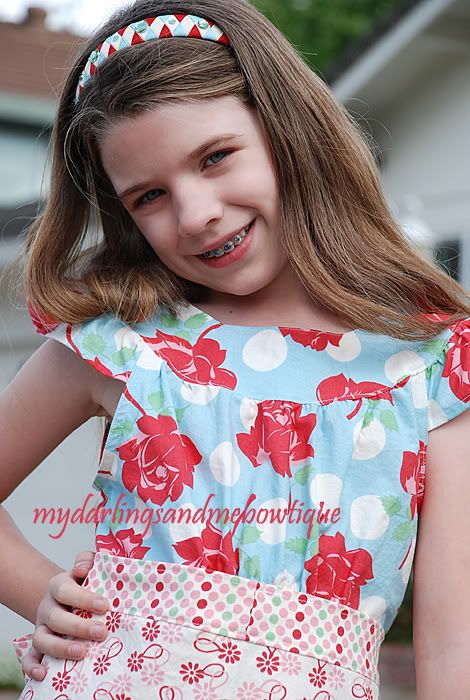 Kammie is a size 4/5 and is 7 years old. She just LOVES getting to model all of the awesome sets that we get in the mail. She is high maintenance already.  She is very much into making sure she looks good all the time and is really into trying to do her own hair. Kammie like her sister loves the colors pink and yellow but she really looks awesome in red. I know blondes should steer away from red but I love it on her.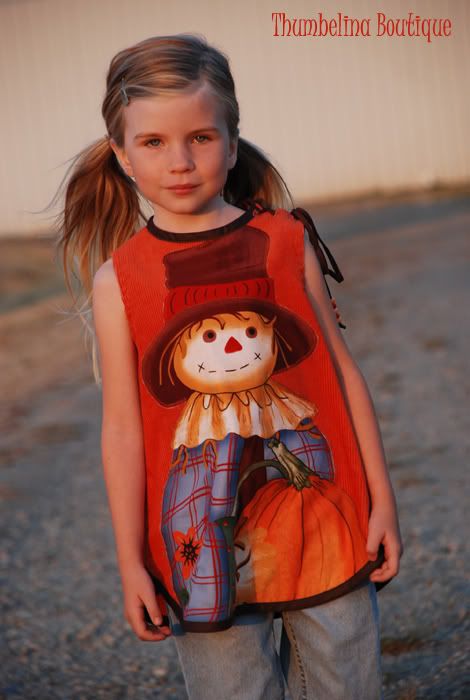 Jaylee is a 4t and is 5 years old. She is a spunky little little character I tell ya!!! She definitely has her own sense of style(which is usually bold and bright), and prefers to where boutique clothing most every day. So I definitely stay busy sewing and buying for her. Jaylee's favorite color is green I think mostly because it is my favorite color.
We are currently modeling in natural light and outdoor locations only. I do edit my pics for the designers and I also keep them hosted for the designer as well. We are free models and are having a great time with it. We have been staying quite busy these days and that is what we love. I don't think we function well as a family unless we have every second of our day full.
If we are not at home you can usually find us at the dance studio. All four girls dance A LOT. Amber takes pointe, ballet, tap, musical theatre and jazz with an occasional lyrical or contemporary workshop thrown in. Their instructor that teaches the lyrical and contemporary recently transferred to ASU and so when she comes home she spends most of her time teaching her old students new routines that they work on til the next time she is in town. Kelsey only takes mustical theatre, tap and jazz. Kammie takes musical theatre, tap, jazz and ballet and has advanced out of combo classes. Jaylee takes musical theatre, tap, jazz and ballet. She loves dance but like any little one has her bad days (ballet can be a rough day if she hasn't taken her nap). My hubby even takes the musical theatre class to be able to spend some extra time with the girls since he is away so much. He even played the John Travolta roll in Hairspray for their last recital. Boy, he loves them!!!! Occasionally, we have such a busy week that pics are taken either at dance or in the downtown area next to dance while we are on a break or right after. The deck is at dance and the others are in the downtown area across the street.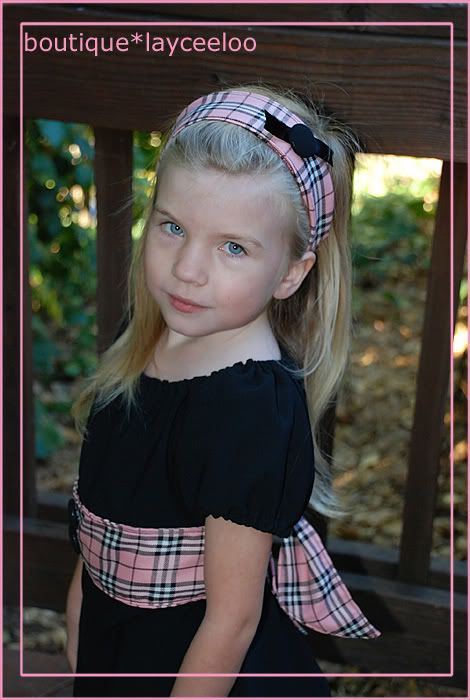 Kammie won a model marathon last year with these pics.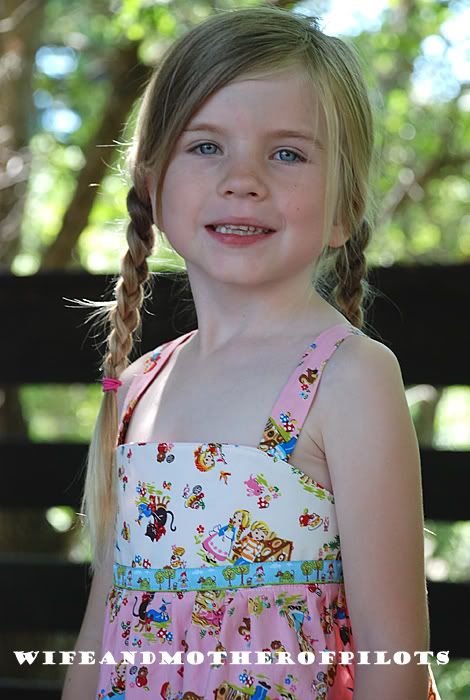 I use a Nikon D80 that I got as a gift last October from my DH when we was going to be deployed for the second Christmas in a row. Yeah me!!! The only stipulation was that I took tons of pics while he was gone, which I did and sent him a scrapbook for Christmas. I love to scrapbook and that is probably the reason we got into modeling was to improve my photography skills. I just love capturing every minute on film(or digital as it would be). I just got a new lens yesterday that I am just too excited to start using, a 50mm f/1.4D. Photography is an art and for me it takes practice, practice, practice. I am really trying to grow as a photographer and luckily I have such great friends that I have met through ebay to help me out and such cuties to practice with. I am not a professional photographer like some here on ebay that model on the side. But I DO strive to take the best photos that I can and to make the designer completely happy with the end product. But, I am human and that isn't always possible. If ever a designer is unhappy I would encourage them to say so, the only way to get better at things is constructive criticism.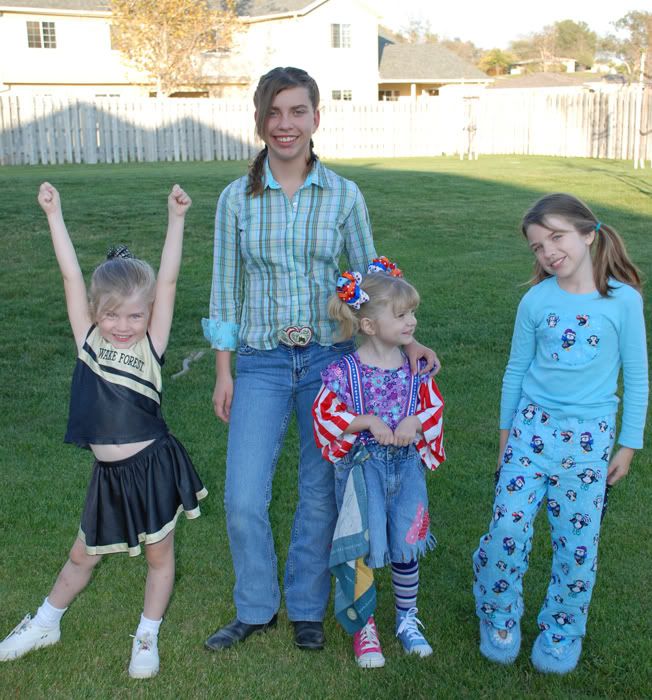 This is just goofing around before going to our Fall Festival at church last year.
Generally, we fix hair at home and then drive to a location for photos. We have an suv so I keep the outfits laid out or hanging in the back and we change in the car at the location. We have two locations that we really love because they are so versatile, a boutique mall near my house and the waterfront marina. We did have a couple weeks ago that we modeled several items and it was 117 outside, we had to cool off with the pics inside the library and then the fountain outside afterward where the spray kept them a bit cool.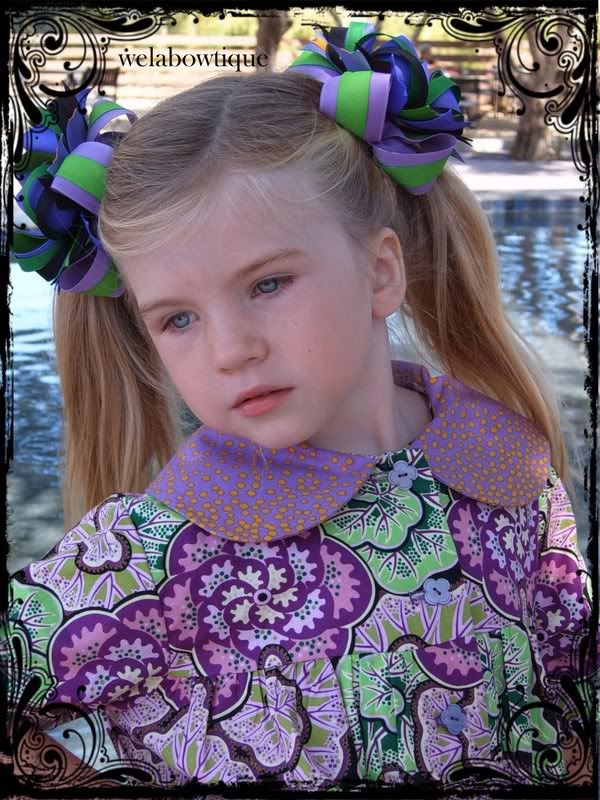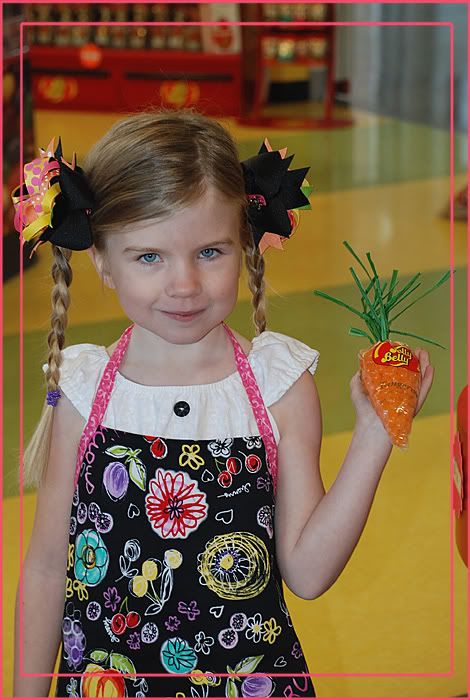 These were all at the boutique mall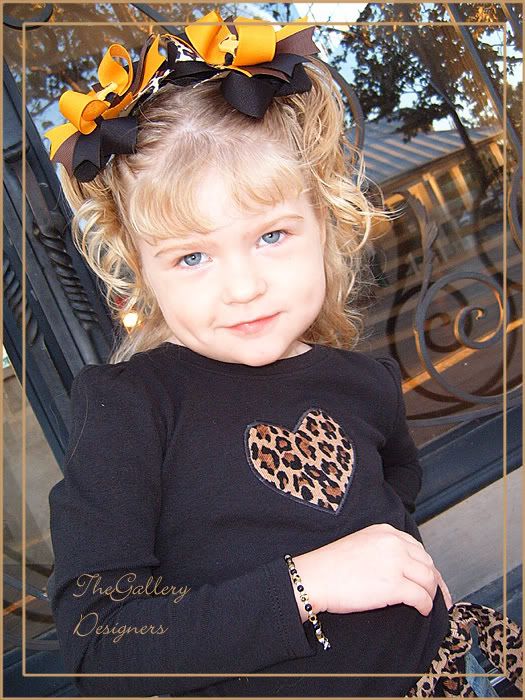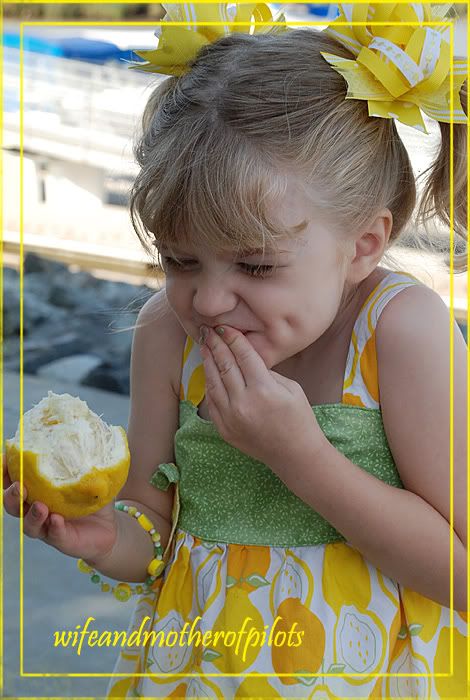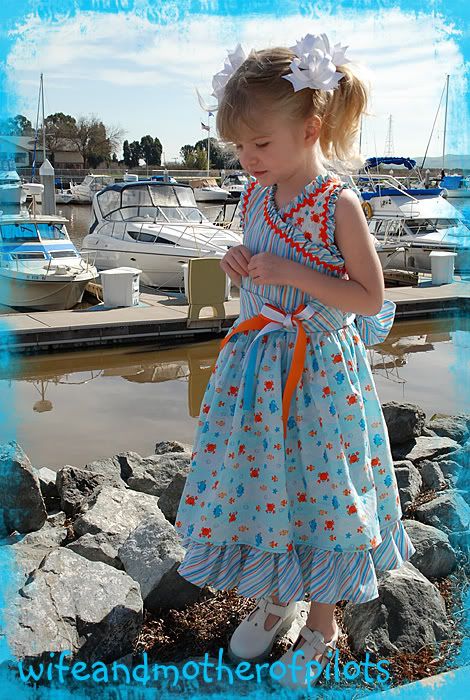 And these at the waterfront.
We don't have a favorite style to model but we are a pretty conservative family so there are things that we don't model for those reasons, halters, witches, skulls anything that would be scary or risque. We have had to turn things down for these reasons. Although, I have to say we have a designer that is designing something for Kammie to model right now for our trip to Disneyland in a couple weeks (it is a halter, but the back is completely covered the way it will be done). I have seen the sketches and my DH and I are ok with how it will be presented. If a designer really wants us to model a certain item and it is a halter we tell them up front that we will wear it with a shirt under and if that is ok, we do it.
Some of the ebay photographers that have inspired me are
Brandi of ady*bitty*boutique,kelly of surfermomkelly, Monica of Maddiesbowtique, Beth of my_lil_cayla_bug and Robin of lil*boutique*models
and a couple other are jodi of mcp, and my dear friends Allison and Misha (non ebayers) if you can believe it.
Some of our first modeling shots were these so I feel that I am improving.
I loved the crooked look WAY too much.
Editing I messed them up.
Wasn't always aware of my lighting.
The following are some of my more recent shots. All done in the last two weeks.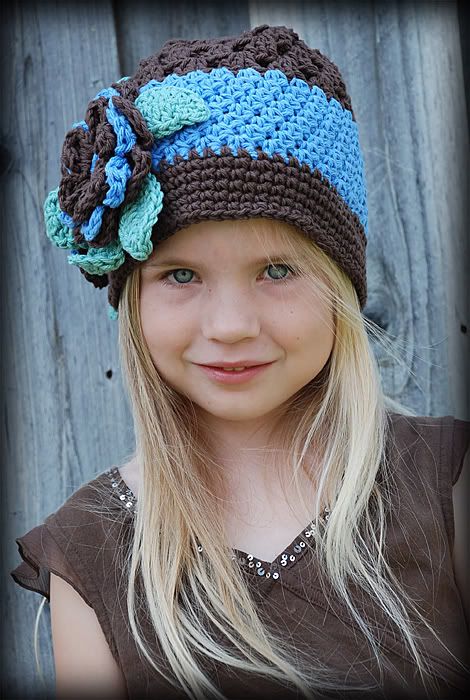 Even the trusty wood fence can still be my friend. I love it but I did over do it when I first started out.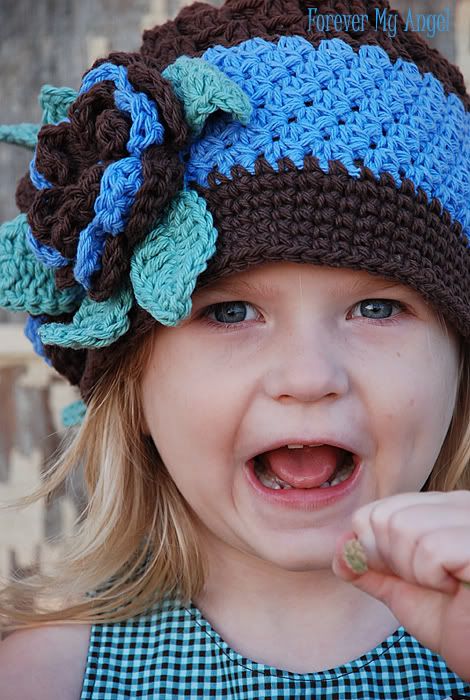 My two youngest are relatively the same size so I do sometimes take pics of both girls in the same outfit for a variety for the designer.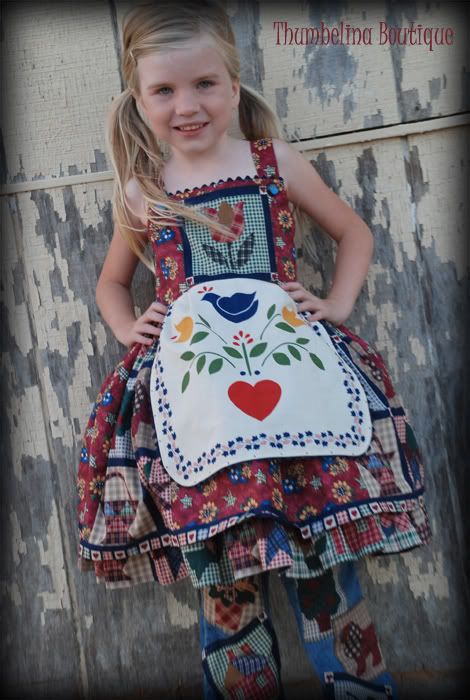 Hope we haven't bored you to pieces with my pics but as you can tell I love my girlies!!!
Thank you again for the feature we are so thrilled!!!
Thank you, Kim, for a wonderful interview and sharing here on Boulevard Spotlight!