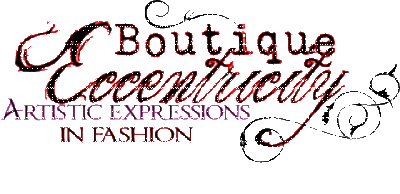 We have a fantastic interview on an eBay Design Group! Gioncarla, the leader of this quirky and awesome group, was not forced in anyway to participate in answering my prying questions! LOL All kidding aside, she and her weirdo designers have made this one quite interesting group of eclectic girls who LOVE to design "outside the design box". They have a launch running right now that you absolutely HAVE to check out!
Now for this awesome interview...
Are you an exclusive group, specialty group or non-exclusive?
We are an open to all, non-discriminatory, non-exclusive, no questions asked group. My first rule was to RELAX. If you launch/don't launch its really no biggie, just come on in and have fun! Leave with or without explanation and the only real "rule" is that Drama is not tolerated in any way, shape or form. We're here to inspire each other to try something different, first and foremost!


How many designers do you currently have and who are your designers?
There are 28 of us. see our about me page or our blog for a complete list!


How long has your group been active?
Well, we came together in May to have one huge launch in July.


Do you girls take any time off for summer or holiday's?
So far we are an annual walk on the wild side. Nothing more. Nothing Less=-)


Is there a special story behind your group?
Not an unusual one really, I was tired of the same old thing and had just come out of a rather painful group experience and wanted to try some stuff out of the ordinary and let go of the stress my former group had caused by letting go of the "rules" of designing and thought perhaps I wasn't alone. I put the call out and the response was outstanding!


Does your group name mean anything?
Just what it is -"Eccentricity" We bring you the eccentric, non-practical, wild and fabulous boutique items!


Did you have a lot of interest when you first started your group? Do you have a waiting list running???
Well we pretty much have the original excited members. Boy, are they some crazy/fun chicks! LOL I adore all of them! I haven't had to remove anyone or turn anyone away. Its been a very easy-going experience! We are still gaining new members even during the launch! Its great!


How often do you launch together?
So far its an annual thing. Although, the idea of doing another "freakshow" launch is being tossed around right now....scary, ain't it? LOL


Tell us anything else about your group that you would like to share about the group, upcoming launches, special talents, etc.
I would just have to emphasize the great talent in this group but that is nothing in comparison to the great heart these ladies have. Maybe that isn't a surprise for most people to find in a group but it has been so much fun! Its unbelievable! These ladies continue to amaze me in every way! If we never do anything again, this experience alone has given me inspiration to last a lifetime!